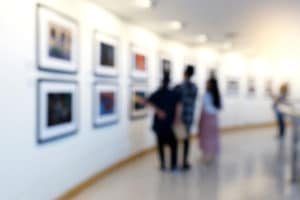 The wonderful Bainbridge Island Museum of Art (BIMA) is another great reason to plan a getaway to beautiful Bainbridge Island in the new year. A scenic ferry ride from Seattle delivers visitors to Bainbridge Island's charming downtown and its world-class art museum. Just steps from the ferry terminal, find this graceful museum with an impressive collection of contemporary art and crafts of the Puget Sound region.
Opened to the public in 2009, the museum's unique building is a work of art itself. Designed by Matthew Coates of Coates Design Architects, the 20,000 square foot building is not only elegant but received a LEED (leadership in energy and environmental design) gold status. The modern design is as warm and welcoming as the museum staff and no admission is required. So return to the museum during your stay on Bainbridge Island as many times as you like. Beyond the fascinating exhibits, the museum also host fun events and classes. Relax in the bistro with a tasty lunch and a glass of wine, then find a piece of art to take home at the museum store.
Begin your new year with a refreshing getaway to Bainbridge Island and the luxurious Eagle Harbor Inn. Our "petit hotel" offers one-of-a-kind accommodations from classy hotel rooms and three custom townhomes. All are conveniently located in Bainbridge Island's lively downtown. Plan a relaxing and romantic escape to our charming island for a wonderful start to your new year!
A Perfect Day at The Bainbridge Island Museum of Art 
When you enter the two story atrium of the Bainbridge Island Museum of Art reception area, you know you're in for a treat. The two story building has seven galleries, a large classroom, a 95-seat auditorium and even an open-air roof-top garden. The quaint bistro space and museum store are on the first floor and a sweeping, grand staircase hugs the 28 foot tall windows to the upper galleries. With ever-changing exhibits, classes, events, shopping and great dining, you'll always enjoy a perfect day at the museum.
Exhibits – The Bainbridge Island Museum of Art  is committed to displaying the talents of established artists and those new to the art world. Shows also changes up to 3 times per year, making each visit to the museum new and exciting. Past exhibits have included the whimsical work of talented children book artists, stunning sculptures made of glass, metal and clay, and dramatic, light-filled Pacific Northwest landscapes. One of the museum's most unique spaces is the artist book gallery. Here they display a collection of "books" that reinvent the way stories are told and how a book can convey them.
Events – The Bainbridge Island Museum of Art puts its auditorium to good use with a variety of entertaining and thought provoking events. Learn more about the artist's vision on guided gallery tours or talks. Sit back and enjoy the themed films series "smART films" at the museum from musicals to documentaries and classic comedies to rarely available foreign films. Theatrical and musical performances also fill the small stage through-out the year. While the museum always participates in the festive Bainbridge Island First Friday Art Walks.
Classes – Art education has always been key to the museum's mission and they offer classes, workshops and other events that inspire the artist in everyone. In addition to many classes and hands-on demonstrations, the museum also have several casual drop-in sessions. The weekly Go Figure workshop invites anyone to bring their pencils and a sketchbook and drawing from a live model with follow artists. While the monthly Drink and Draw held at Bainbridge Brewing Alehouse, right next door to the museum, combines a night of drawing with some excellent local beer.
BIMA Bistro – Enjoy wonderful, seasonal light fare for breakfast, brunch, or lunch in a light-filled cafe with beautiful contemporary art. On sunny days relax on the patio with a sweet treat or excellent glass of wine. The perfect spot for a rest before or after exploring the museum.
Museum Store – The store selection is just as carefully curated as the pieces on display in the museum's galleries. Take home a one-of-a-kind gift for yourself, friend or loved-one created by a regional artist. Original cards, books, toys, jewelry, and wearable items are available to fit every price range and style.
A visit to the Bainbridge Island Museum of Art is never the same. There's always a new exhibit, exciting event, and class to join. Your stay at Eagle Harbor Inn also surrounds you in beauty at our spacious and luxurious accommodations. Reserve your romantic Bainbridge Island vacation and escape to our lovely location in the Puget Sound.