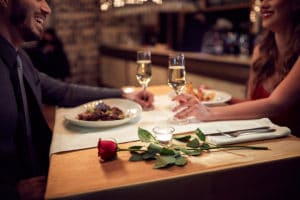 Bainbridge Island restaurants may be a scenic 35 minute ferry boat ride away from Seattle, but they rival any city dining experience. Our small, charming island is known for its world-class art museum, talented performing arts theater, and lively town center. And the excellent choice of Bainbridge Island restaurants is just another wonderful reason to plan a romantic getaway here in the new year. Bainbridge Island has attracted accomplished chefs from not only Seattle but around the world. Here they have access to not only a beautiful setting but farm fresh ingredients to create amazing dishes. So enjoy getting away from the crowds of the city while still enjoying the finest dining on our tranquil island.
Your stay at Eagle Harbor Inn makes dining at Bainbridge Island restaurants a pleasure with no car needed. Just steps from our door, guests will find a wide choice of cuisine and dining settings. Savor international dishes, modern pub food, or fresh seafood in a cozy cafe, lively bar or romantic restaurant. Choose someplace new and exciting to dine every night during your Bainbridge Island escape. Reserve your elegant guest suite or stylish townhouse at our "petit hotel." 
Bainbridge Island Restaurants for the Best Date Nights
It's difficult to list only 10 of the wonderful Bainbridge Island restaurants, when there are so many special places to dine. Consider this a sample or taste of some of the best places for a romantic date night. Since they are popular with visitors and locals alike, reservations recommended at most restaurants on the list:
Agate Restaurant

 – You'll find the most attentive staff at this charming cafe, next to the Bainbridge Island Museum of Art. Their seasonal menu uses local seafood, meats and produce creating unforgettable dishes. Begin with a delectable starter with a heavenly cocktail and end with one of the decadent desserts.

Ba Sa

– The friendly staff here serve the amazing modern Vietnamese dishes, with French and Southeast Asian influences. The small and large plates are great for sharing and savoring along with one of the original seasonal cocktails. 

Restaurant Marché

 – This is one of the most romantic restaurants on the island with famous chef Greg Atkinson at the helm. For a perfect evening out with your loved one, treat them to an amazing meal at an intimate table. Or grab a front row seat at the chef's counter and see the staff work their magic.

Hitchcock

 – One of the most well- known Bainbridge Island restaurants that's owned by Seattle's talented chef Brendan McGill. Cozy up in a booth and great ready for a dining experience from the creative menu. Surrender to an amazing Chef's Tasting Menu or choose from the fresh season menu.

Doc's Marina Grill

 – Request a table at the huge four-season deck overlooking Eagle Harbor and the grand sailboats. It's a great place for a burger or sandwich, but they're also known for their wonderful clam chowder, caesar salad, and seafood dishes.

Proper Fish 

– Owner Harvey Wolff, a chef from London, knows authentic fish and chips. It's no surprise that Seattle Times named the ones served here "Seattle's very best fish and chips" and we couldn't agree more. The perfectly crisp and light fried fish is also served with house made minted mushy peas, tartar sauce, and twice cooked, hand-cut chips.

Bruciato

 – Enjoy thin crust Neapolitan pizza in the modern, industrial setting. Share a pie at the huge bar area or at one of the rustic wooden tables and benches. During the warmer months the floor to ceiling garage door windows are opened for an open air dining experience.

Thuy's Pho House – Tucked in Madrona Lane find this great Vietnamese, noodles and pho cafe. This charming restaurant is owned and operated by chef Thuy herself, a Bainbridge Island local. Enjoy amazing food in this casual setting with a charming courtyard for outdoor dining as well.

The Harbour Public House

 – Only patrons 21 and older can dine in this traditional public house. Come here for the best Seattle and water views from their deck and a few choice seats inside. It's also the place to go for fresh oysters and a huge beer list. However they make amazing seasonal cocktails, pub burgers and also offer salads with a choice of grilled and bbq'ed meats and vegetables.

Bene Pizza

 – This tiny cafe is the best kept secret on Bainbridge Island, that will take a little searching to find. It's off the beaten path of most Bainbridge Island restaurants but worth a short walk from the downtown area. Their artisan pizzas are to die for and the small bar also serves exquisite cocktails. Hearty salads, pasta dishes and house-made desserts round out the menu. However the decor is part of the experience as well, with walls covered in album covers. Find your favorite band while enjoying a wonderful dinner.
With all these amazing choices you could dine out at different excellent Bainbridge Island restaurant every night! Eagle Harbor Inn has the perfect central location for sample the great cuisine on the island. Plan a romantic getaway to our beautiful island in the Pacific Northwest and start 2020 creating wonderful new memories.