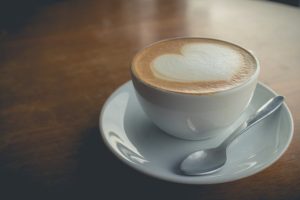 It probably comes as no surprise that Bainbridge Island is home to a wide array of cafes and coffee shops, each perfect in their own way for a cup of Saturday morning coffee or tea.  Bainbridge Island, is after all, a mere ferry boat ride away from downtown Seattle, known the world over as the coffee capital and home of Starbucks.  Yes, it's true that you can pretty much find a Starbucks everywhere you go in Seattle.  But, Seattle's coffee scene is so much more than one coffee chain.  It's home to a thriving community of local coffee shops.  Bainbridge is no different.  One of our Island's favorite Saturday morning traditions is to visit our local favorites.  Perhaps when you stay with us at the Eagle Harbor Inn Petit Hotel, you'll visit a coffee shop or two as well?  Book your room at our Inn today, and come explore Bainbridge With us.
A Closer Look at Bainbridge Coffee shops
The perfect cup of coffee often means something different to each of us, which is why having a large variety of coffee shops on our island is a great thing!  We can each get that perfect dose of comfort and caffeine the way we like it in the morning.  We've compiled a list of Bainbridge's most popular local coffee shops for you to explore the next time you're here.  We look forward to hearing which of them is your favorite!
For the record, yes, Bainbridge Island does have a Starbucks. Two, actually, for when you really need that Frappuccino fix.  However, we think you'll enjoy the local character of flavor of each coffee shop listed above even more. The best part about visiting Bainbridge Island is enjoying the unique community we have created here, and we hope you take the time to do so the next time you stay at our petit hotel.  We're conveniently located just off Winslow Way, in the historic heart of Bainbridge, and within walking distance to many of these coffee shops. Book a room with us today, and come get to know Bainbridge with us.