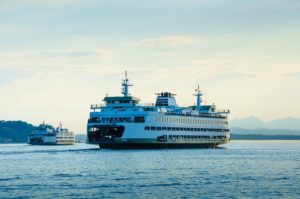 From the moment the ferry leaves out of downtown Seattle's Coleman Dock, you'll want to pull out your phone and start snapping photos of the incredible scenery around you. The trip between downtown Seattle and Bainbridge Island aboard the Washington State Ferry system has been coined one of the most beautiful commutes in the world, and has long-reigned as a top attraction in the Pacific Northwest.  Not only is the ride aboard these vessels novel, but it's beautiful as well.  With picture-perfect views of downtown Seattle and stunning vistas of the Olympic Mountains as you pull into Bainbridge, enjoy the journey, and take plenty of pictures to share on Instagram later. For the remainder of your trip, enjoy relaxing in luxury at the Eagle Harbor Petit Hotel, which is walkable to many of Bainbridge's Islands best restaurants and attractions. Book your room today!
Instagram Worthy Pictures Around Bainbridge Island
Bainbridge Island is known for its pristine beauty & rural charm.  From waterfront views to forested trails and its charming downtown, the island has a variety of things to see and do. Bring your camera along as you tour the island, and enjoy these 12 great instagram worthy destinations while you're here:
If you want that quintessential picture of the Bainbridge Island ferry, head to Pritchard Park. You'll see the ferry come around the bend at Creosote Point, pulling slowly in the harbor with plenty of opportunities to snap the perfect photo. While you're there, make sure you visit the Bainbridge Island Japanese American Exclusion Memorial; a tribute to the many families forced to leave the island during WWII.
If you want to take an instagram worthy post common to locals and their kids, head to Point White Pier. Snap a photo of you (or someone else) jumping off the pier and into the icy waters below.  It's a great way to cool off on those hot, sunny days, but you'll find people brave it even on not-so-sunny days.  If you aren't feeling adventurous, this is also a picture-perfect place to catch a sunset.
To get a good view of a beach with Seattle in the background, head to Manitou Beach in the Rolling Bay area. A different angle of this same shot is available on Rockaway Beach.
Great a great shot of Bainbridge's tidelands and beaches at Fay Bainbridge Park. Check the tide charts before you go so you can time your trip.
Instagram some new-to-you and delicious wines that you've discovered at one of our local wineries and/or tasting rooms.  Craft Beer lovers will want to test out the flights at Bainbridge Brewing, or their second location the Bainbridge Brewing Alehouse.
Capture the beauty of the Japanese Garden, the moss garden, or other beautiful spaces at Bloedel Reserve.
Snap the quintessential instagram photo of your Mora Ice Cream (cone or up) while soaking up the sun on Madrona Lane.
Get adventurous and hop aboard a kayak or stand-up paddle board in Eagle Harbor (rentals available).  If you time it carefully, you can catch a selfie with the ferry in the background.
Instagram Bainbridge Island's scenic marina. Great viewing locations include Docs Marina Grill, Harbour Public House, and the Waterfront trail. Don't forget to include the rock sculptures along the trail in your photo!
Snap photos of the incredible range of goods available at the Bainbridge Island Farmers Market, which is now open every Saturday from 9a – 1pm.
If you're the type to share your foodie adventure on instagram, there are a few options worth considering on Bainbridge.  The tasting menu is always interesting at Hitchcock, and the plates never disappoint at Restaurant Marché or Agate Restaurant.  Whatever it is you enjoy sharing, make sure your journey includes us at the Eagle Harbor Inn with. Feel free to take photos of our beautiful Inn, and hashtag us at #theeagleharborinn. Book your room with us today!