Located just 35 minutes by ferry from Seattle, Downtown Bainbridge Island has a charming tree-lined main street with shops, cafes, wineries, and art galleries, perfect for an afternoon stroll. During the summer, these quiet streets turn into a lively tourist hub. Many visitors just come for a day trip and retreat back to the city in the evening, but there is so much to explore in Downtown Bainbridge Island that it really does warrant a more extended getaway. 
From fantastic breakfast cafes and farm-to-table fine dining to wine tasting rooms and luxurious boutique shops, you'll find plenty to explore and still want to return for more. Downtown Bainbridge Island, known as Winslow, is about a five-minute walk from the ferry terminal, and there are so many stops along the way that we'll narrow it down to our top ten! Which is no easy feat. 
The best way to fully explore our little island community is by booking a few days at one of the best hotels on Bainbridge Island: The Eagle Harbor Inn. Not only are we the only hotel in Winslow, but our curated space is also thoughtfully representative of Northwest culture, and our guest rooms and townhouses are designed for the most comfortable stays. You'll be within walking distance of everything in downtown Bainbridge Island, and we have parking on-site for your vehicle. Start planning your trip to Bainbridge, and book your room today!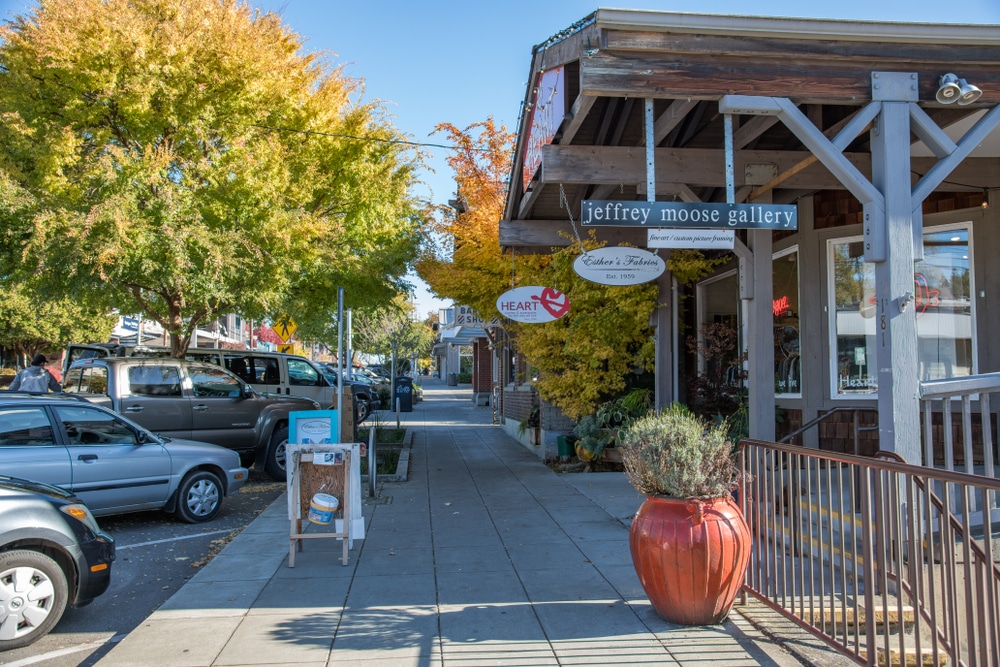 Best Stops in Downtown Bainbridge Island
As you step off the ferry, you'll quickly see that you're not in the city anymore! Everything moves at a bit slower pace here, affectionately dubbed as "island time," you'll want to take your time, leisurely explore downtown Bainbridge Island, and let the calming atmosphere wash over you. After you've checked into one of the best hotels on Bainbridge Island, you can get settled, leave your bags, and head out on your adventure.
Here are the top ten things not to miss in Downtown Bainbridge Island: 
Don't Miss the Bainbridge Island Farmers Market: 
Every Saturday morning from April to November, you'll find a beautiful collection of vendors, prepared food options, and artists at the
Bainbridge Island Farmers Market
. If you're staying during the weekend, this is a must to add to your itinerary. From beautiful bouquets and houseplants to farm-fresh produce and local cheeses, you'll find something to take home with you. And it's located right in the heart of downtown Bainbridge Island, so it's the perfect first stop on a leisurely Saturday morning.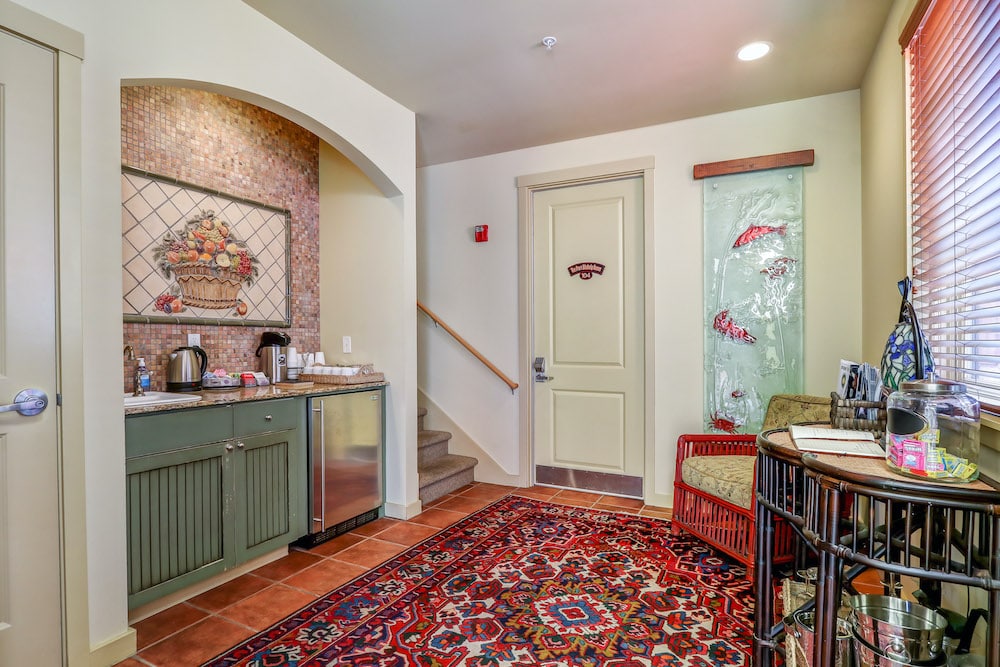 One of the Best Bainbridge Island Hotels for Summer
After you've explored the best of Downtown Bainbridge Island, your welcoming and quiet guest room or townhome will await your return. All of our lodging options are beautifully appointed with custom furnishings, Northwest artwork, and luxurious amenities. En-suite bathrooms offer a spa-like reprieve with high-end fixtures, plush towels, and hand-crafted toiletries. Whether you're choosing our cozy guest rooms or multi-room townhouses, all offer the same level of attention to detail and comfort. 
As one of the only boutique hotels on Bainbridge Island (especially this close to the ferry), you'll quickly see why we have fantastic reviews on TripAdvisor and Google. Here's a recent glowing review from a past guest: 
"Top-notch Inn in a perfect location for a relaxing get-away on the island. Very convenient for all the amenities in town; once we parked, we really did not need our car again! The accommodations are peaceful and restful, with a charming European feel. The host is very responsive to inquiries, and the entire property is very clean and inviting."
We couldn't have said it better ourselves! We hope you'll join us this summer on Bainbridge Island and discover all of the best things to do in the downtown area near our hotel. Your first visit is often not your last. Reserve your room today!