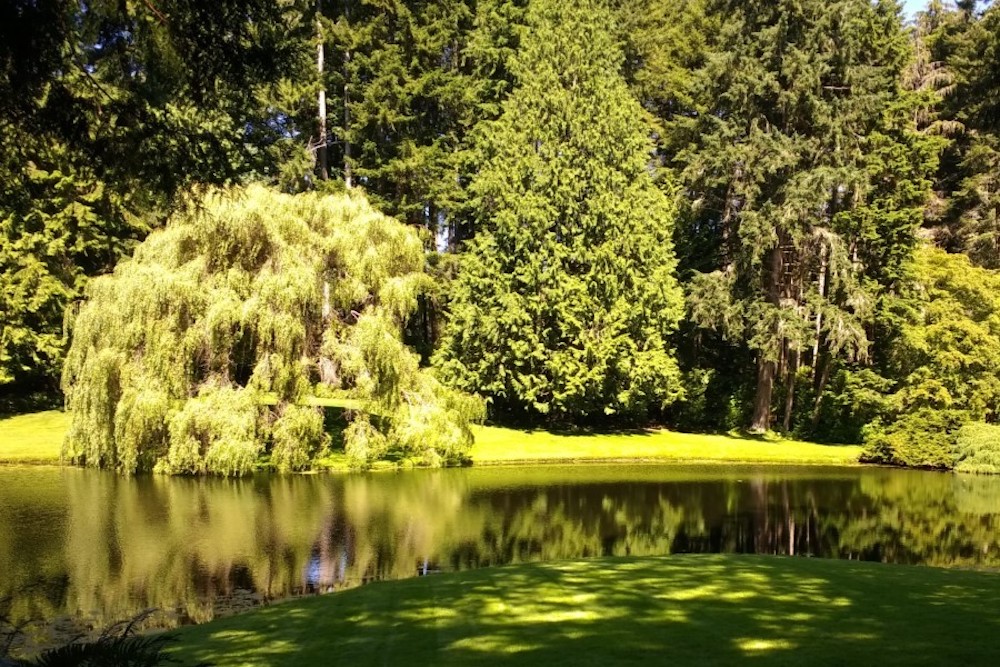 During the late spring and early summer, Bloedel Reserve and all of Bainbridge Island, in fact, begin to come alive with buds, bulbs, bright green, and colorful blooms. The landscape of the Northwest loves to put on a show after the long, wet winter, and our quiet island community starts to buzz again with visitors, too. If you're unfamiliar with Bloedel Reserve, it's a hidden gem on Bainbridge Island and one of North America's top ten botanical gardens.
Bainbridge Island sits just five miles west of downtown Seattle across the Puget Sound; it's best reached by the Washington State Ferry system on a 35-minute boat ride. We may be close to the urban core of Seattle, but Bainbridge Island feels like it's a world away. Our sleepy island is known for rustic Northwest beauty, rocky shorelines, and charming downtown, but you'll also find world-class attractions like the iconic Bloedel Reserve.
There's a lot to explore on Bainbridge Island, which warrants a more extended stay than just a day trip from the city. In fact, you'll find one of the best Bainbridge Island Hotels within walking distance from the ferry and all of the restaurants, cafes, and shops in downtown Winslow. While it's ideal to have your car with you when visiting specifically for Bloedel Reserve, there's plenty of parking at the hotel. Spring and Summer are popular times on the island, plan ahead and reserve your room today!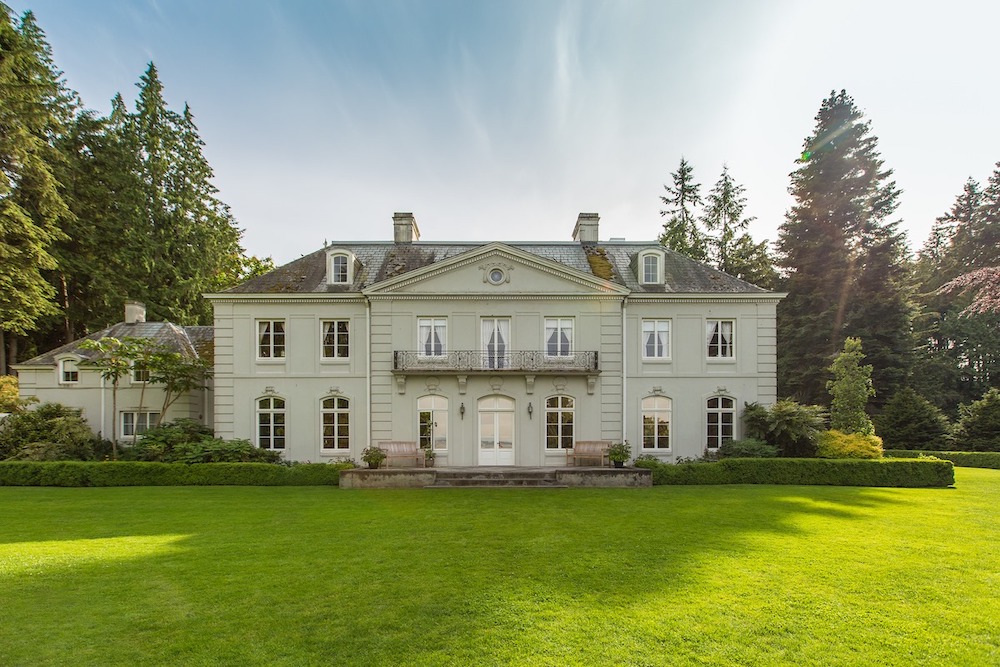 The Best Time to Visit Bloedel Reserve
When the spring hours begin on April 1st, that's when you know that the best time to visit Bloedel Reserve is coming up! While the beautifully curated garden space is open year-round from Tuesday to Sunday, and you'll witness nature at its finest on any trip, the reserve truly comes to life when the rhododendrons begin to bloom, and the sun breaks through the clouds.
Here are a few things to know and interesting tidbits about Bloedel Reserve:
Bloedel Reserve comprises 150 acres of meadows, woodlands, and formal gardens. In total, there are 23 different areas, encompassing unique landscapes that each have a distinct charm and beauty of their own, including a delightfully green moss garden, a reflection pool, a restored 1920s-era home, and an award-winning Japanese garden.
The Birch Garden is a favorite; you'll weave through the slender white trees as the dappled sunlight shines through the delicate leaves, revealing spring flowers under the trees. This path leads to the Christmas Pond, with a small waterfall and a footbridge. This pond was a Christmas gift from the founder Prentice Bloedel to his wife, Virginia.
The Rhododendron Glen is a must in the spring and summer, as the forest of Washington's State flower explodes with color. It's one of the oldest garden areas on the property, originally designed in the 1930s—suffice it to say you'll see some fantastic (and large) examples of this unique bush with bright blooms.
The 1960 Japanese guest house, designed with native woods and recycled materials, is by far one of the most beloved spaces at the Bloedel Reserve. Visitors can walk around the guest house's large deck and take in one of the best views of the grounds. Take your time and contemplate the two perfectly balanced Japanese gardens.
An approximately two-mile loop of well-maintained bark, gravel trails, and paved roads wind through the park. If you walk the entire loop, plan to spend at least two hours here.
There are annual events at the reserve; keep your eye on the calendar; there might be something to plan ahead for during your stay!
Admission to Bloedel Reserve is by advanced timed ticket sales only. Book your tickets here. Visiting is specifically designed to be a quietly immersive experience in nature.
As a guest at our Bainbridge Island hotel, you'll be less than 15 minutes from Bloedel Reserve, just a quick drive up the main highway.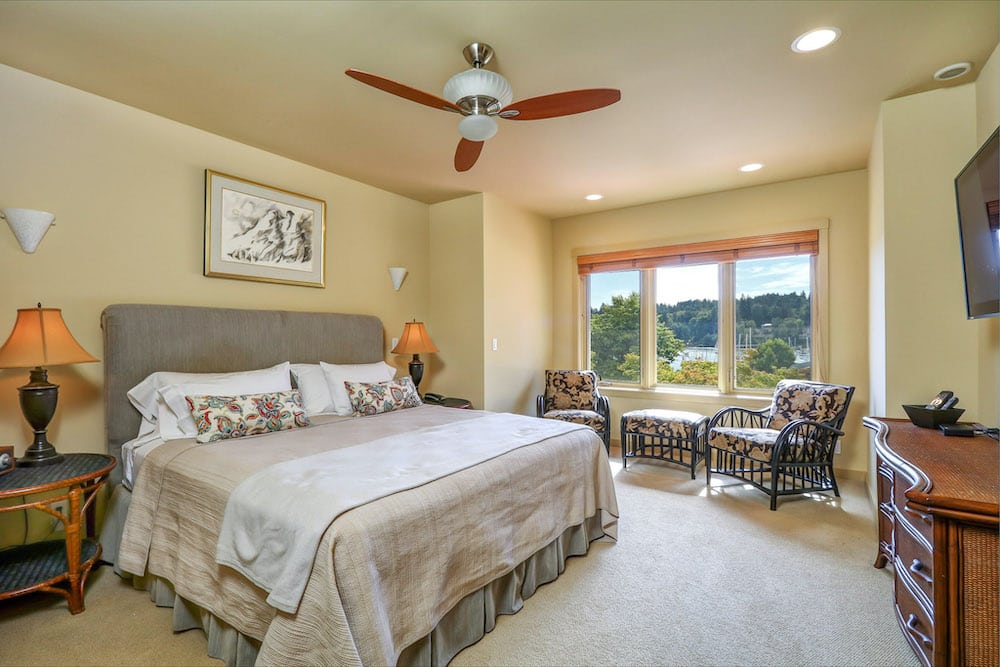 One of the Best Bainbridge Island Hotels
For those planning ahead to visit the Northwest this spring and summer, there's no better place to stay than the Eagle Harbor Inn—one of the only boutique Bainbridge Island hotels. Our location in downtown Winslow and within walking distance of the ferry is ideal for exploring the best of Bainbridge. You'll love exploring the island by day, enjoying a beautiful meal at one of the local restaurants, and retreating back to our peaceful petit Bainbridge Island hotel.
Inside our lovely Bainbridge Island hotel, you'll find a diverse array of guest room options. We have cozy hotel rooms, perfect for couples, with high-end, custom furnishings, fine linens, and en suite bathrooms. We also offer two townhouse-style suites- multi-floor units with full kitchens—ideal for groups or families traveling together. You'll find the same luxurious appointments and Northwest-themed works of art.
During your stay, you'll be treated to coffee each morning from our neighboring cafe, Pegasus Coffeehouse. You'll have complimentary use of the facilities at Island Fitness and be within walking distance of our gourmet grocery store, restaurants, and much more! We can't wait to host you at one of the only boutique Bainbridge Island hotels. Book your room today!