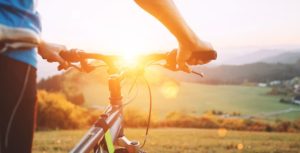 Coming over to Bainbridge Island via the Washington State Ferry System, which leaves out of downtown Seattle's Coleman Dock, is an expensive trip to make by car, and sometimes quite a hassle. This is especially true during these busy summer months when floods of visitors are heading to our charming little island town. Luckily, there's no need to bring a car to Bainbridge Island. In fact, a number of our local residents walk or bike onto the ferry each day, heading off to jobs and other engagements in downtown Seattle. You're welcome to bring your own bike, or you can rent them once here.  Either way, biking around Bainbridge is an easy and hassle-free way to enjoy your piece of the charmed life at our Petit Hotel.  Book your room with us this summer!
How to Enjoy Biking Around Bainbridge Island
The historic streets of downtown Bainbridge Island are just minutes from the ferry dock. On Winslow Way, you'll find a number of quaint boutiques, incredible restaurants, plentiful art galleries, and world-class art museum, and so much more. At the opposite end of town, you'll find our Bed and Breakfast; perfectly accessible to Bainbridge Island's top attractions.  While we're enjoying this beautiful summer weather, it's a great time to take a biking tour of Bainbridge Island. If you haven't brought your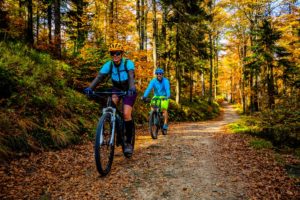 own bike, you can rent one right from the ferry terminal at the Bike Barn, or just up the street at Classic Cycle.
Once you have a bike in hand, how you tour the island is up to you. You can generally expect the routes to be hilly, but there are ways to avoid some of the worst hills if you plan your route carefully. If you're up for a biking challenge, the island's most notorious hills include those on Arrow Point Drive, Koura Road, Baker Hill Road, Toe Jam Hill Road. If you're looking for flatter biking terrain, your best bet is to head toward Crystal Springs Road on the south end.  This ride will take you on a scenic waterfront road, and also to the charming Lynwood Center, home to a variety of shops and restaurants worth visiting. While out there, you can also visit Fort Ward Park and enjoy biking along the scenic South Beach Drive.
Biking to Bainbridge Island's 7 wineries, its local craft brewery, and the island's two distilleries is another excellent way to see the island. If you want to make a trek around the entire island, there's a 35-mile loop you can do. It's a great way to see the best of Bainbridge.
Though many visitors to Bainbridge Island come just for the day, there's more than enough reasons to make it a getaway and stay at the Eagle Harbor Petit Hotel for a day or two. Bainbridge Island offers a surprising assortment of attractions, which can't be explored in a single day. Book your room at our luxury Inn today.