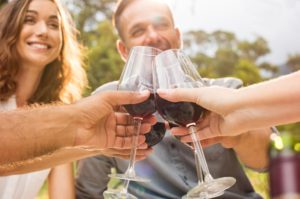 If you're looking for a great place to getaway and enjoy some relaxing downtime, consider coming to Bainbridge Island and spending a few nights at The Eagle Harbor Inn Boutique Hotel, located in downtown Winslow.  Bainbridge Island is the perfect escape for all that ails you in this fast-paced modern world. Once you step off the ferry and onto our historic Winslow Way, the town's main thoroughfare, you'll find a charming downtown bustling with quaint and independently owned boutiques, a variety of renowned restaurants, a healthy dose of fresh air and green spaces to enjoy, and plenty of places to unwind and enjoy a deliciously crafted adult beverage when desired.
In fact, Bainbridge is home to a booming craft beverage industry, with 7 award-winning wineries, a craft brewery, and 2 distilleries. It's definitely worth checking out, and these slower, less crowded winter months are the perfect time to do so. Book your room at our Bainbridge Island Bed and Breakfast today!
Crafting Wine, Beer, & Spirits
Bainbridge Island certainly has managed to hang on to the small town vibe that's made it such a popular getaway for urban Seattleites and those visiting the Pacific Northwest.  The ferry ride here alone is immensely beautiful and worth taking, but stepping onto our main street is like stepping into another world. As our population grows in proportion to the region as a whole, so too, do our offerings for visitors and guests.  In recent years, Bainbridge has seen quite the expansion to its dining and craft beverage scene, with the most recent newcomer, Highside Distilling, opening just this month. Here's a guide to the best wine, beer, and spirits around Bainbridge Island.
Wineries
As we've mentioned before, there are 7 award-winning wineries that call Bainbridge Island home. Wine tasting is a great way to both see and experience the island. Four of theses wineries have tasting rooms in downtown Winslow, which makes visiting them convenient when you're staying at our Inn.  Those wineries include:  Amelia Wynn Winery & Armstrong Gallery, Eagle Harbor Wine co., Eleven Winery, and Fletcher Bay Winery. The rest can be visited at their on-site tasting rooms around the island.
Craft Brewery
Bainbridge Island is also home to one independent craft brewery. Their original location, in what is known locally as "The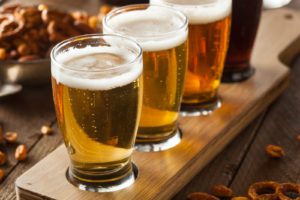 Coppertop," houses their brewery and taproom. They've recently opened a second location, the Bainbridge Brewing Alehouse, which is on Winslow Way, next to the Bainbridge Island Museum of Art and directly across from the Ferry Terminal.  Brewmaster Russell Everett produces a steady line of year-round beers, special seasonal beers, unique experimental beers, and barrel-aged and sour beers. Along with their incredible selection of beer, they also serve NW hard ciders, wines produced by island vintners, and selection NW and West Coast wines.  Both of their locations are lively and popular places to spend an evening or two on the island.
Distilleries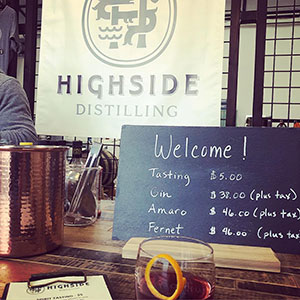 Bainbridge Island is now home to two distilleries, both producing a unique range of spirits. The first is Bainbridge Organic Distillers, which has produced the state's first USDA Certified organic vodka, gin and whiskey. Their spirits have won multiple awards over the years, including the World's Best Vodka and the World's Best American Grain Whiskey, among others. They are currently open Monday – Saturday for tours, tastings, and sales. The newcomer to Bainbridge Island's craft beverage scene is Highside Distilling, which just opened in November, 2018.  They are located near Bainbridge Island's new artisan center called BARN, and currently produce 3 distinct spirits. They are open on the weekends for tours, tastings, and sales.
There's more than enough to keep your taste buds busy for a day, but when you need some dinner, Bruciato or Restaurant Marché, both located within walking distance to our Inn, can't be beat.  Good food and delicious drinks are an essential part of a great getaway, and you'll find all of that and more right here on Bainbridge Island. Book your room at The Eagle Harbor Inn today.