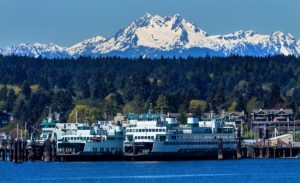 Fall is a wonderful time to plan a short but sweet getaway.  If you live anywhere near the Seattle/Tacoma area, then Bainbridge Island should be at the top of your destinations list.  Bainbridge Island sits just 5 miles west of downtown Seattle, and is best reached via the Washington State Ferry system.  Despite our close proximity to the urban core of Seattle, Bainbridge Island feels like it's a million miles away.  An island is known for its iconic Northwest beauty, rustic character, and quaint but hip downtown, Bainbridge is also home to world-class attractions liked the famed Bloedel Reserve and the newly built Bainbridge Island Museum of Art (BIMA).  We most certainly lived a charmed life on Bainbridge, which is what makes this such a perfect getaway destination.  Book a room at our boutique hotel on Bainbridge Island, and come fall in love with island living.
Bloedel Reserve in the Fall
The Northwest isn't particularly famous for fall foliage. We do enjoy those famous fall hues, but it's nothing like the autumnal feast for the senses that happens every year in New England.  That being said, there is a place on Bainbridge Island where fall is extraordinary, and that is the Bloedel Reserve.  Bloedel Reserve is a 150-acre classic Northwest Woodlands garden open to the public.  It's a wonderful place to go when you need a moment to yourself, or when you want a deep breath of fresh Northwest air.  The New York Times called Bloedel "one of this country's most original and ambitious gardens," and we're lucky enough to have it just a few short minutes from The Eagle Harbor Inn.
Once you've arrived at Bloedel Reserve, take the time to wander through as many of the trails and gardens as you can.  In total, there are 12 different gardens, including a delightfully green moss garden and an award-winning Japanese garden. Another worthwhile stop on the property is the 1920's-era home, which has been thoughtfully maintained.  There are wonderful educational events at Bloedel Reserve throughout the year, so their calendar is worth checking whenever you're in town.  Coming up are the Fall Interest Plant ID Walk, and the Fall Colors & Funghi Plant Walk. If you really want to immerse yourself in the natural beauty of Bloedel Reserve, then perhaps you should apply for their annual Creative Residency?  The application process is open now!
As the seasons change, so, too, do the gardens.  No two visits to this extraordinary place will be the same, but each will delight your senses in untold ways.  Throughout the winter months, which run from Labor Day through May 25, 2018, the Reserve is open Tuesdays – Sundays, from 10 am – 4 pm.  Come experience the delightful fall season with us on Bainbridge Island.  Book your room at our luxurious hotel today.