There's something extraordinary about starting your vacation on the Seattle to Bainbridge Ferry. You'll glide across the beautiful blue-green waters of Puget Sound, with views of Mount Rainier to the south, the Olympic Mountain range to the west, the sparkling Seattle city skyline to your back, and rolling emerald hills of Evergreen trees at every angle. It's best viewed with the salty breeze in your hair and even better on a clear, sunny day in Summer.
As you approach the island on the Seattle to Bainbridge Ferry, you'll sail into Eagle Harbor. Head up to the top deck for the best view of the beautiful homes dotting the shoreline and kayakers navigating the waters. In total, the Seattle to Bainbridge Ferry takes 35 minutes—the perfect amount of time to grab a snack in the galley and take in the picturesque Northwest scenery. And for those staying on the island, it's just an easy ride back on the ferry to Seattle to explore!
While taking a round-trip ferry ride is doable for a day trip, there are so many things to do on Bainbridge Island worthy of an extended stay. Bainbridge is a charming small community with a main street full of boutiques, cafes, restaurants, and galleries ideal for leisurely strolls. For those hoping to spend a night or more, the Eagle Harbor Inn is the best hotel on Bainbridge Island and the only one located in downtown Winslow. We offer elegant guest suites and multi-room townhomes for your stay. Summer is a busy time on the island, so plan ahead and book your room today!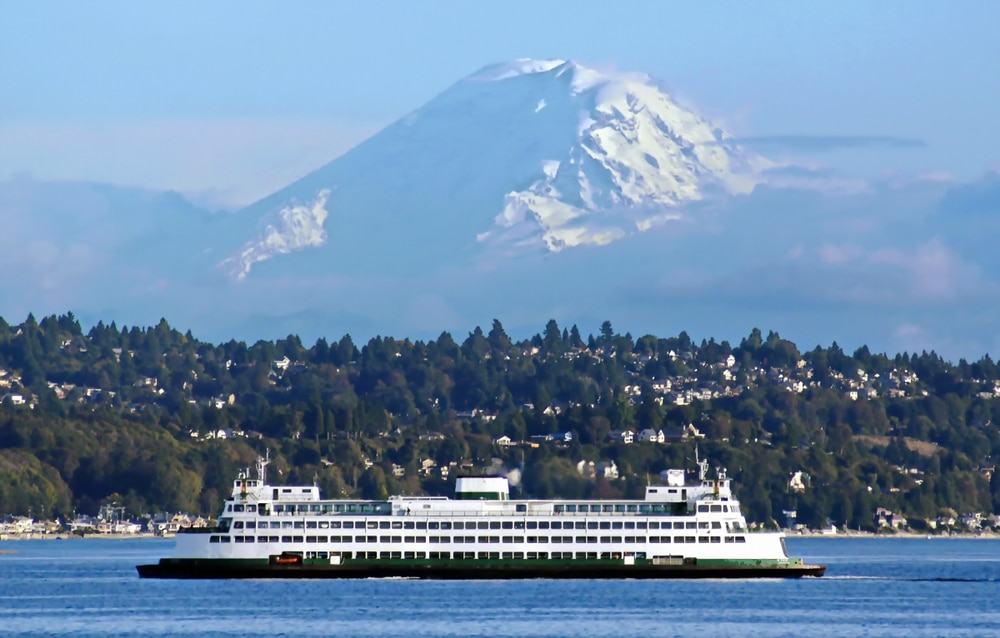 Your Guide to the Seattle to Bainbridge Ferry
The Seattle to Bainbridge Ferry has been navigating the Puget Sound since 1951, bringing commuters and visitors to and from the island for more than 70 years. Whether walking on or driving the car, taking the ferry is a relaxing way to travel. Here are a few tips and tricks for sailing on the Seattle to Bainbridge ferry line.
Seattle to Bainbridge Ferry Schedule: For the most up-to-date sailing schedule, check the Washington State Ferries website. If you downland the WSDOT app, you can access "Vessel Watch," which tracks the ferries in real-time. This will alert you of delays or changes as well. The Seattle to Bainbridge ferry route does not allow ticket sales in advance, so you'll take care of that on the day of your sailing, either online or in person.
Tickets: Walk-on passengers only pay one way when boarding from Seattle to Bainbridge Island. No tickets are needed when you leave to take the ferry to Seattle from the island. Adult tickets cost around $10 (prices vary by season), and anyone under the age of 18 rides for free. Drive-on passengers will pay both ways for the driver and vehicle. Be sure to ask about senior discounts and cars under 14 feet long.
Walk-On Passengers: The passengers on foot will use the downtown Seattle ferry terminal on Alaskan Way. There's a bit of walking involved, so plan accordingly based on your sailing time; we suggest arriving at least 30 minutes before the scheduled departure. All riders will disembark via the overhead walkway on the boat on the Bainbridge side.
Drive-On Traffic: There's a holding lot at the Seattle ferry terminal for riders with cars. Due to construction in this area, pay close attention to the signs for where to go. You'll also want to plan to arrive even earlier if you're driving on, especially during the summer months when tourism is at its peak.
Car Alarms on the Ferry: If you choose to head upstairs on the boat, deactivate your car alarm! The vibrations of the ferry set those off right away, saving the crew from having to announce the PA system calling out license plate numbers.
Things to do on the Ferry: While aboard the Seattle to Bainbridge ferry, you'll find comfortable seating areas, many with tables and all with beautiful views out the windows. Grab a local beer, glass of wine, or snacks from the galley to enjoy during the sailing. Be sure to head up to the upper deck for panoramic views—and the very lucky might even spot one of the local orca pods!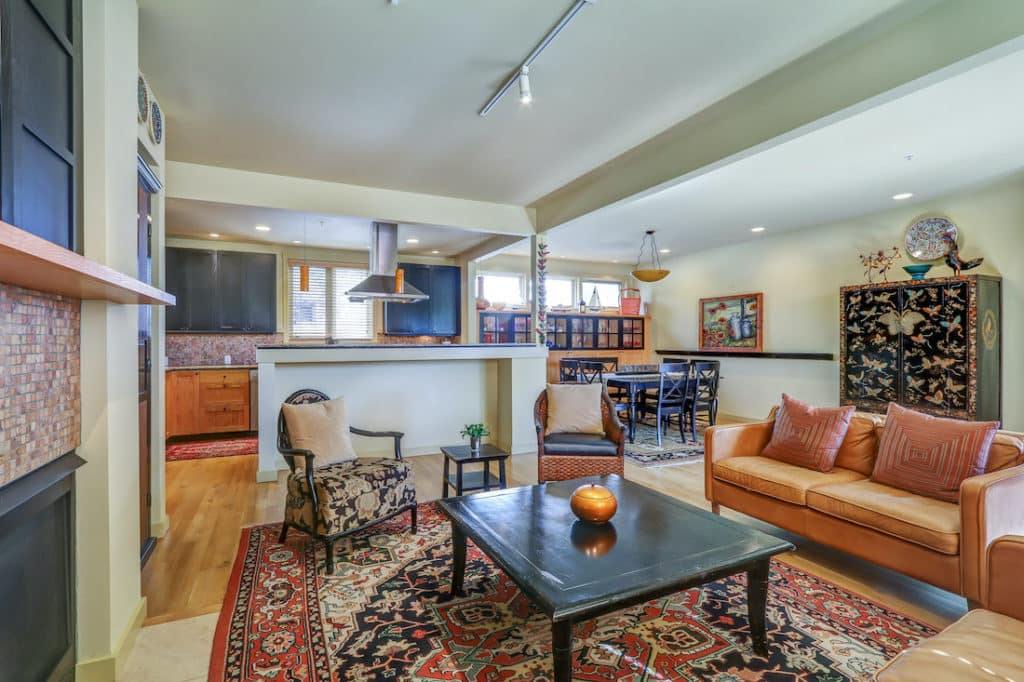 The Best Hotel on Bainbridge Island
Now that you are ready to climb aboard the Seattle to Bainbridge ferry, it's time to book your lodging and plan your itinerary. There's no better place to stay than our beautiful boutique hotel on Bainbridge Island. Not only are we within walking distance from the ferry terminal and all of the best things to do in Winslow, but we offer elegant suites and two townhomes for those looking for an intimate or group getaway.
As you arrive at our hotel on Bainbridge Island, you'll enter our garden courtyard. All of our rooms and townhomes surround this central gathering space. You'll find outdoor seating for an afternoon in the sunshine and a peaceful atmosphere ideal for reading or conversation. Inside, our rooms and townhomes have a warm and welcoming feeling, with Northwest-themed decor, custom-made furnishings, and elegant appointments. Our guests often comment that they feel at home without daily stresses.
When you begin your getaway with a ride on the Seattle to Bainbridge ferry, it really sets a magical tone. Let us continue that special feeling at our hotel on Bainbridge Island during your stay. Come explore the beauty and pristine nature of our quiet island in Puget Sound. We can't wait to host you; book your lodging today!